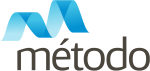 Metodo
Spain
Método is a Spanish-based international consulting company focused on advanced services in training, social-labour research, technology and social projects with 18 years of experience. Currently, Método's team reunites the best experts in the field, with specialists who have an important contribution in building the long-term success of the company's clients by adding their know-how in the developed projects and their broad experience applicable in a wide range of industries and continents (more than 100 employees and collaborators in Europe and Latin America).
Our main expertise area is training for employment, especially through e-learning mode, on which we are among the leaders on Spanish market, in the same time we are also providing other training modes such as blended learning or traditional classroom training. Since our very beginning, we use new technology to provide innovative solutions that optimize our clients' resources in the training field by providing e-learning solutions, software development, apps and web development. Our team is also highly experienced in the design and implementation of projects related to social, labour and educational field, among many other areas, actively participating in numerous projects and bidding processes at national, European and International level, always under a pro-active approach and willing to create solutions for the different kind of project challenges.
Método's experience on the field of adult education is mostly related to VET and lifelong learning. During our more than 20 years of experience we have trained more than 400,000 students.
Método's experience ensures the participation in both national and international projects and it has got many years of experience in the knowledge and state of the art technologies.
Since 2014, Método has participated in 12 European projects from Erasmus+ calls and H2020; as partner and as coordinator.